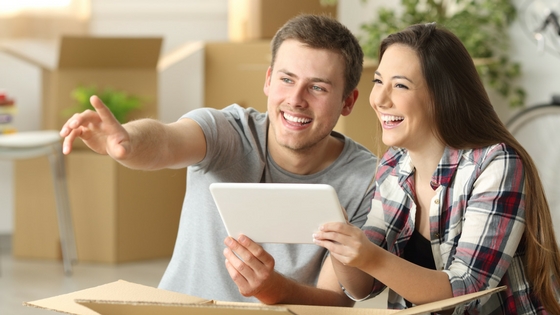 Thinking about decorating or redecorating your apartment here at Lexington Hills? Maybe you need a change of pace, or you just found a great idea on Pinterest that you want to try out. Figuring out how your vision fits into the space in your apartment can seem daunting, but you don't have to go it alone! We've gathered a list of handy tablet and phone apps for redecorating.
Palettes on iPhone or Android: This is a great free app for creating color schemes. Maybe you were inspired by a lovely bouquet of flowers or by a friend's adorable outfit — just snap a picture, and the app will create an instant collection of color swatches based on your photo.
Photo Measures on iPhone or Android: You never have to get to the store and then realize that you left your list of measurements at home with this app! Just snap a picture of the room with Photo Measures and then jot down all the measurements right on the photo. Finding what you need is even easier when you can refer back to the real site.
Home Design 3D or BuildApp for Android: These apps are all great variations of the same idea. Build a three-dimensional model of your home, fill it with furniture, and then start moving the furniture around to see where it will fit, where it won't, and what configurations look best. Save yourself a lot of guesswork and back pain — get your furniture right the first time.
Using apps saves time, energy, and money, and you will be able to preview many of the changes you are thinking of making with different colors and room arrangements. It's amazing what that little hand-held device can be used for!
Have any other great apps for moving or decorating? Let us know in the comments! Thanks for reading. Good luck!