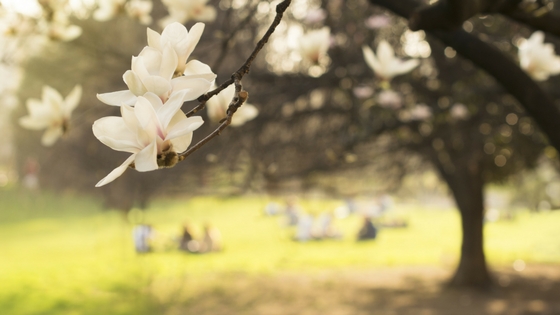 Enjoy the clear spring weather here in Eagan, MN by visiting a park near your apartment at Lexington Hills. This week on the blog we're highlighting a few you may enjoy and including approximate driving times to each location to better help you plan your trip.
Caponi Art Park and Learning Center (6 min)
This 60-acre park of rolling wooded hills and trails enlightens and delights all who visit, according to the website. You can take a walk and explore on your own, enjoy a performance, or book a group tour to learn more about nature and the park in person. On Sundays in July through August at 6:30 pm you can you can also enjoy the Summer Performance Series for just five dollars. Each performance, from the Dakota Valley Summer Pops Orchestra to the Kalpulli KetzalCoatlicue & Chinelos San Pablo Apostol to Kevin Kling and Simone Perrin, will be a treat to watch.
Blackhawk Park (8 min)
Visit this park for grounds featuring a canoe launch, a fishing dock, a hiking trail, a playground, an observation deck, and a pavilion. It's open from 6 am to 11 pm, so with the longer summer days approaching you have a lot of time to enjoy the outdoors here. Here is a review so you can know what to expect:
"Blackhawk Lake Park is a beautiful outdoor place. You can rent the large pavilion which features its own kitchen, restrooms, and outdoor sheltered eating area for your guests. There is a children's playground and a sand volleyball court. The best feature is the lake, which provides some of the best photography." — Jewels H. on Google Reviews
Lebanon Hills Regional Park (10 min)
This park is the largest one in the Dakota County park system, containing almost 2,000 acres, miles of trails, and many lakes for year-round sports, recreation, and environmental educational opportunities, according to the website. You can visit the visitor's center in the eastern section of the park for information, interactive nature displays, courses and programs, equipment rental, and more.
What are your favorite parks to visit near your apartment? Share your recommendations with the rest of the apartment community by leaving a comment. Thanks for reading!